---
Learning and Maintaining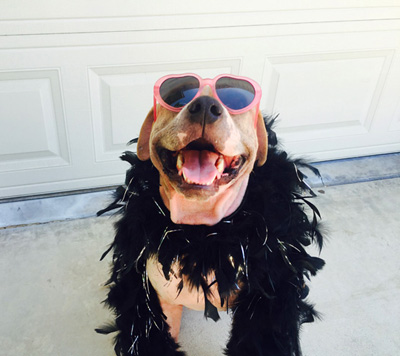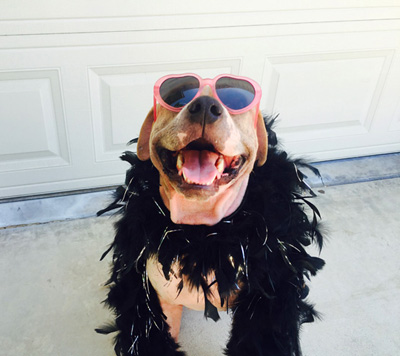 A few months ago, Marley's Mutts and Soi Dog Foundation, got together and brought over a dog to the US named, Pinky. Zach Skow (founder of Marley's Mutts) fell completely in love with this girl and made a promise to her that he would bring her over to the States. Because of breed restrictions, transporting Pinky was not the easiest task but within a few months, after being transported by boat to cargo van just to get to an international airport and then spending another 24 plus hours in a crate to get to the US, Zach was able to fulfill his promise. During this process, Zach reached out to us and asked if we would foster Pinky to get her ready to be in a home. We agreed to take her in and when we met her for the first time, we knew exactly why Zach wanted to bring her here.
Now that I've had a few months to get to know her, I'm going to give you her full "dating profile". I was going to call this "The Good. The Bad. And the Truth." but I do not believe dogs do anything, "bad". They only do what we allow them to do so I switched it up into learning and maintaining because you maintain and encourage the "good" and you learn and teach from the "bad". So here's the report on our little mange, meat trade survivor.
Maintaining:
Out of the 70 plus dogs that have been through here in the past 3 years, Pinky may have broken the record for meeting the entire pack at the same time. She's a very confident dog. Pinky is one of the most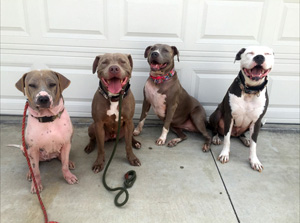 confident dogs I've ever been around. She gets along with cats, kids, dogs, people and she tolerates our pig, Snack Pak. We will get to that in the "learning" section.
She's also a great runner. She would do well in an active family. We call her our "CrossFit" dog. She walks with the pack with no problem, as well!
All of this I did not have to teach her. I just had to maintain it and make sure I never put her in a position where she had to make choices on her own. As a dog parent and foster, I am 100% responsible for anything my pack does.
All in all, Pinky is a breath of fresh air after my last 2 fosters.
Learning:
I call this the "learning" section because all of the behaviors I feel is unacceptable in a home are not "bad" things. They are just things she has learned over the past 2 and half years. You have to remember, even though she had been with Soi for a bit, she had never been in a home environment. She's got 2 and
a half year head start on me and if I could talk to her I would say, "Look Pinky, you're not doing anything wrong. I know this is what you're used to but I'm going to teach you a new way. This new way is going to get you ready to be in a home to call all your own and I'm going to take the time to show you because you may not understand but that's ok. Learning new things can be confusing but I will take as long as it takes until you understand." But I can't talk to her like that so I show her. And as the School of Dog Psychology has taught me, "It doesn't matter how long it takes, what matters is you take the time." And I use this approach with my pack daily, not just the fosters.
Leash/Walking:
Pinky had no problems being on a leash until I wanted her to stay next to me. She resisted quite a bit but
after a few days, she not only learned to walk next to me but she sits when I stop. But if I'm not giving her 100% during our walk she goes back to what she's always done, which is whatever she wants to do.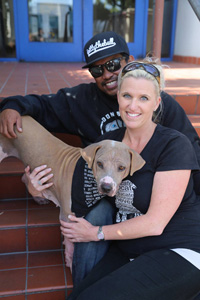 She's getting better and better by the day. She will run by your side all day but when you slow it down is where she needs to do the most learning. I will be sure to mention this to any potential adopter. This probably could have gone in the "maintaining" section now that I think about it!
Food:
The first time I fed Pinky she wanted nothing to do with the food I was giving her which was totally fine with me. But by the 3rd day, she rushed the bowl. I needed to teach her to give a human space when they are putting her food down. This took a little over a week and she now gives me space and waits patiently until I set her food down and walk away. She even waits for my "wiggle" cue!
She's also a "dumpster diver". She's quick to take food off the counter or take leftover anything in the trash. She will only do it when you're not looking so I'm teaching her to stay in the living room when there's food around.
She's also learning to share space when eating. She's by no means, "food aggressive" but she's never been in a home environment. We are teaching her that when she's done with her food she can go to her "spot" until all the dogs are done eating and the bowls are picked up.
Snack Pak the Pig:
Here's our biggest "issue". The first time she met him, she was curious but one day she got too curious and Snackers knocked her down. Ever since then she's hasn't been too fond of him. And that's fine. She doesn't ever have to like him or be best friends. And the chances of her going to a home with a pig are pretty slim but I need to teach her how to respect him. Snack Pak has a pen outside to keep him separated as well as a room in the house (which he never uses because he prefers to be outside) so I use the gate between them to teach her to give space and to teach her that I would never put her in a stressful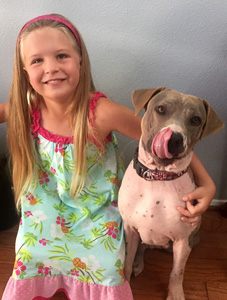 situation. Like I said, she probably won't go into a home with a pig but Snack Pak represents everything and anything that could cause a dog to react unfavorably. Again, she's never been in a home environment before so giving the human full control over a situation that makes her uncomfortable is something new to her.
Off Leash/Recall:
We are working on it. She's not ready to be off leash at a dog beach, dog park or on a hike. In fact, when I call all the dogs in from the backyard, Pinky is the only one that insists on doing "zoomies". Even deaf Betty comes in when it's time! Again, she's not doing anything "wrong", I'm just showing her something new and she's reacting by doing what she knows.
So how do we work on this? I keep a leash on her. When it's time to call the dogs in, I calmly walk over to her, pick up her leash and we all come back in the house. Calling her name multiple times just gets her amped up and gets her used to not coming to me when I call her. So instead of calling all the dogs in and expecting her to follow, I pick up her leash a few minutes before we all go in. I don't want to make this a big deal. I keep a leash on her around the house, as well. It's like training wheels for her and it also helps a lot with her being calm when we go out on walks. The leash is a training tool. Not a source of excitement.
Summary:
I know the "learning" section was a tad longer than the "maintaining" section but I just wanted to be clear on what I was teaching her. Considering she's survived the meat trade, recovered from mange and never been in a home environment for the first 2 plus years of her life, she's pretty perfect.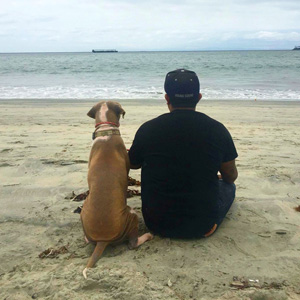 Pinky would do great as an only dog or in a pack. She would do great with a single person or a family with kids of any age. She would do great in a home with cats.
She does not have separation anxiety so you can leave her in your home. Just keep her away from a trash can, if possible!
There's nothing she can't learn and she's so confident and loving. Our little meat trade survivor is going to make a family very happy soon!!
Put it this way, if I could keep her she would be right alongside Elvis going to schools and events with me educating kids (and parents) about responsible pet ownership. Yes, she's that amazing.
Thank you, Marley's Mutts and Soi Dog Foundation (soidog.org) for your tireless efforts to get her here as well as the other dogs that have found sanctuary because of your work!
**If you're interested in adopting Pinky please go to www.marleysmutts.org and fill out an application!**
Recommended Posts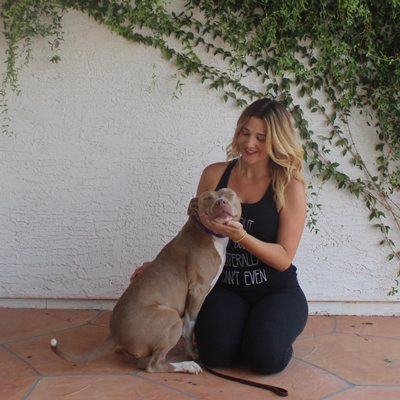 September 12, 2017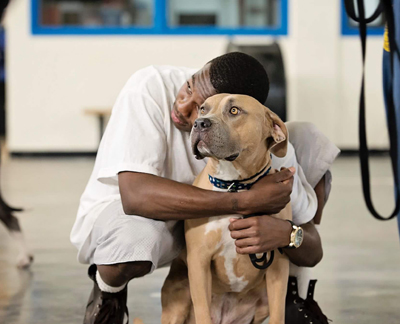 September 06, 2017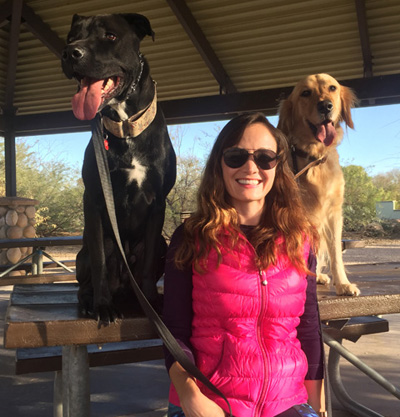 August 22, 2017