---
Through No Fault of Their Own Part V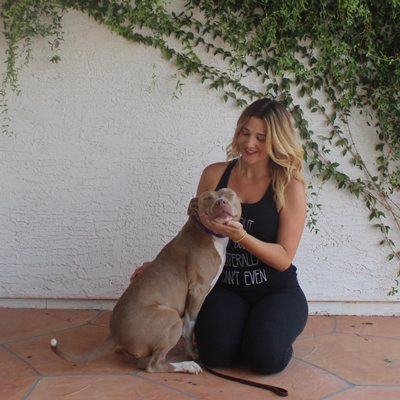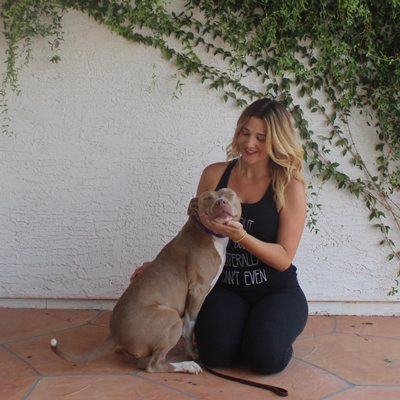 It took me forever to get through all five parts of this blog. I do work a lot but to be honest with you, I really didn't know how to end it. I was going to end it by talking about our adoptable pup, Chance, and how he has been in rescue for over two years but Standing Proud Pit Bull Rescue never failed him. Then a dog walked into my life and wacked me on the side of the head with a frying pan, her name is Abby, and this is her story.
Back in May, I was contacted by Madison, who was referred to me by her dog walker from Orange County, where I moved from last year. Ugly Dog Adventures does pack walks and I used to see them all the time at Irvine Regional Park and we follow each other on Instagram, Madison was their client! Madison had also relocated here in Arizona and while driving past the Indian Reservation saw a fawn pit bull on the side of the road. Madison hopped out of her car and the pit bull came right over and willingly hopped into the car and thus begins our story. Madison searched high and low for a rescue that would help her advertise and manage the pups adoption. She found one that agreed and we will call them, "Operation Desperation," as their name has been changed out of respect.
Operation Desperation agreed to take Abby, the newly named fawn pit bull, into their rescue, have her spayed, vetted, and provided some basic fostering materials. All seemed to be going well. Madison originally contacted me for dog walking services, as she would be going out of town and although Abby was very low energy, she had a tendency to get into trouble if she wasn't properly exercised. I was happy to help, especially since her dogs were about as well behaved as they come, including Abby. Abby thrived in Madison's home where the principles of exercise, discipline, and affection are applied. She is a proactive dog mom and always has their best interest at heart. It would be easy to just crate Abby to keep her out of trouble but it was a priority to Madison to make sure she was fulfilled so that she could provide freedom for her. I walked Abby three times that week and she was a dream on leash, no reactivity towards other dogs, no pulling, no rushing – she was with us and we were with her and her golden eyes would express enjoyment of the moment. I wanted her to go somewhere special and wanted to help Madison find her a home, I recommended Abby to everyone who contacted me about wanting to adopt a dog, alas, there was always a reason – she was a pit bull, she was too big, she was the wrong color, something ridiculously dumb.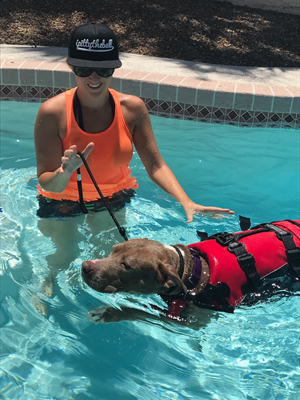 A few months later, Madison contacted me for swimming lessons for Abby, it took about an hour and we had a nice pattern for Abby to follow, she would drain her energy quickly and this was a great outlet for her. I loved that I got to see her again and when Madison went out of town I went back to swim with Abby again. I loved her, she was affectionate, cooperative, and would nibble on the tip of my nose to show her gratitude.
A few weeks later, Madison let me know that Abby had a potential family and they were going to meet for an introduction. As far as I knew, things worked out and they were going to adopt her. On July 31, I received a very composed text from Madison so imagine my surprise when we touched base on August 1 and I heard the following news. Abby's adoption didn't work out, there had been a confrontation between Abby and the resident dog, and the rescue instructed them to turn her into the shelter and tell them she was female dog aggressive. Madison also proceeded to tell me that when she was spayed, they discovered she had TVT – Transmissible Venereal Tumor inside her vulva and they adopted her out knowing she was sick and that the adopter was supposed to start treatment. So, all I knew was a great dog was sick, in a shelter somewhere, very confused. It took two days for Madison to locate her, Operation Desperation would not disclose to Madison where the adopter was taking Abby. I headed straight to East Valley shelter, the only shelter I knew of here in Arizona to begin the hunt for our girl.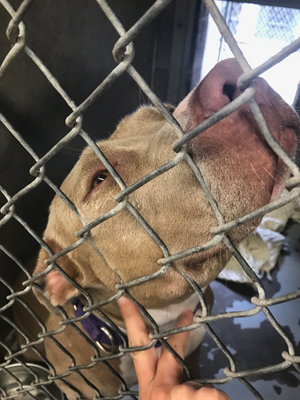 I found her, kennel 129, and she was, at the very least, alive- I found no new scratches or wounds on her. I called in a plea to my human friend Abby, president of Standing Proud Pit Bull Rescue, and explained the situation ending it with, "You know I would never, ever, ever try to convince you to take in a dog that would be difficult to place, she is perfect, I can't understand HOW THIS HAPPENED!" Abby was in the shelter "through no fault of her own." Human Abby is an angel and agreed.
We got her home, settled, and started a Pound Wishes fundraiser for her medical care, which was supposed to be inexpensive and very treatable. I noticed on August 4 and 5 that the bleeding from her tumor was excessive and we took her into the vet right away. We began her chemotherapy treatment on August 6, she still wasn't eating by the evening of the 7, and by the morning of the 8 I set an appointment for her to go back to the vet since she seemed to be vomiting and having diarrhea excessively yet wouldn't eat or drink anything.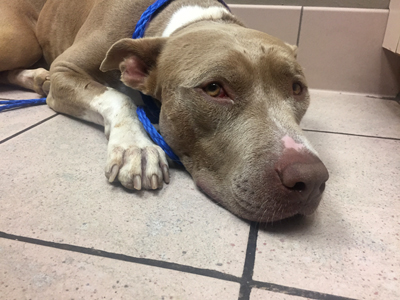 Her appointment was for 3 and at 2 I put her in the car and rushed over, we sat in the waiting room and she immediately evacuated her bowels all over our waiting area and it was bloody, everyone stopped what they were doing to help her. We weighed her, she had lost five pounds in two days, something wasn't right – this was not supposed to happen. We had to run a number of medical tests to rule out parvo, pyometra, and more… not only did we not know her history before Madison found her, we had no medical records from Operation Desperation regarding her vaccination history or veterinary visits.
I know you are angry right now. Probably fuming. You want to know who! You want to tell them what you think of them! I wanted to, too. Let me explain why I call them "Operation Desperation." We are human. Rescuing dogs is tough business, people take advantage all the time, we suffer from compassion fatigue, lack of sleep, feeling powerless to do more. I truly believe that people start this with the best of intentions and sometimes lose sight of what is right and wrong because we take on the consequences of others and we make decisions out of DESPERATION. We take dogs because we are told they are super easy to place and they end up costing us thousands, we want to have a line in the sand that people cannot cross. It fucking happens. I am not angry, if anything, I want to help. Even reputable rescues self vaccinate, making it tough for people down the line to help dogs that end up having medical problems but they do it to keep costs down so they don't have to fundraise every weekend or stand with their hand out, we get judged for that, too. It is very easy to stand where you are at and say what someone else should do, what is not easy is to understand how they got to a place where these things happen. No matter how desperate they were, what they did to Abby was, without a shadow of a doubt, absolutely wrong and despicable and I suggest they evaluate their commitment to helping dogs in any way.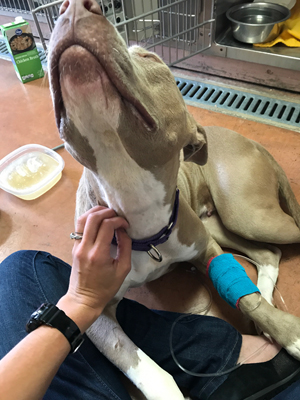 For a few days, I really thought that Abby wasn't going to survive but Madison was her rock. Abby was familiar with Madison and with all this change, I'm sure the comfort of her former foster made all the difference in her will to push on and live. She took her first few bites of food with Madison there cheering her on, helping her feel loved and comfortable.
I'm grateful she ended up with us, and I'm grateful Abby from Standing Proud didn't "un-friend" me after dog Abby's expensive hospital stay. Human Abby loves her, too and sees the bright shining light that I saw. She may have ended up in the shelter through no fault of her own but I can't think of a better place for her to be than right here with us. Abby is now on her third treatment and we have found the appropriate dose to treat her, this will mean she will need additional treatments. What is most important is she is back to her sweet, silly, and affectionate self. She is eternally optimistic with everyone she meets, that they may just spend a few minutes with her, allow her to be overly affectionate, and ignore all attempts to pose for photos. She loves her foster Dad, Ryan, and will follow him just about anywhere.
We are also taking a longer break between treatments, the quarantine was very hard on her. She is a very social dog and although she is surrounded by the pack, not being able to interact with the dogs was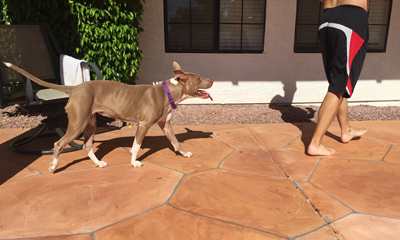 building frustration, which can lead to a litany of other issues. Fostering a medical dog is a responsibility that cannot be taken lightly. It means we are responsible not only for their physical health, but also their psychological welfare. It's very easy to take what was a generally well behaved dog and infect them with new behavioral issues simply by loving them too much and feeling bad for them. We must balance recovery, rehabilitation, and socialization in order to truly help a dog recover. The longer breaks between treatments means that Abby can socialize with the rest of the pack to relieve her needs to interact with canines. This will help her stay a social dog and means we won't have to manage or fix reactivity down the line.
When it comes time for her to find her family, we will use the same process that we used for Tucker and Jameson. She will get all the time in the world to get comfortable in her new home, her new owners will get the "Abby Handbook." They will be allowed to tell us it's not working, she will stay here with me until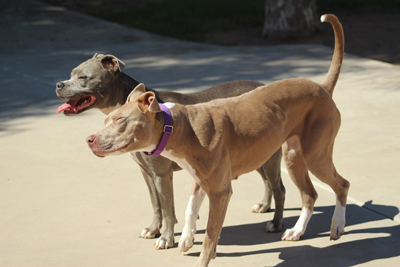 everyone is ready. Rescuing is so much more than finding a place for a dog to go, it's more than just making sure they stay alive – it's a process, an understanding, an education, and we are ALL responsible to creating the best and most successful outcome. I truly hope this series allows more of us to ask questions, to ask for help, to network. We are a community of dog lovers, rescuers, and experts – I encourage everyone to ask for help where it's needed and take a look at your process. You may not like the way I do everything, but you may like the way I do one thing. I'd like to personally thank Linn Boyke for teaching me how to be a better behaviorist, a better rescuer, and an all around better human being. Linn has been an inspirational leader, he is tough but that is only matched by a deep a profound sensitivity for the humans and dogs he guides.
You are all invited to Abby's fundraiser on September 30, 2017. All proceeds go to cover her medical care and rehabilitation. Please join us in celebrating her recovery – there will be a taco bar, margarita bar, throwback lawn games, pool party, and lots of amazing people!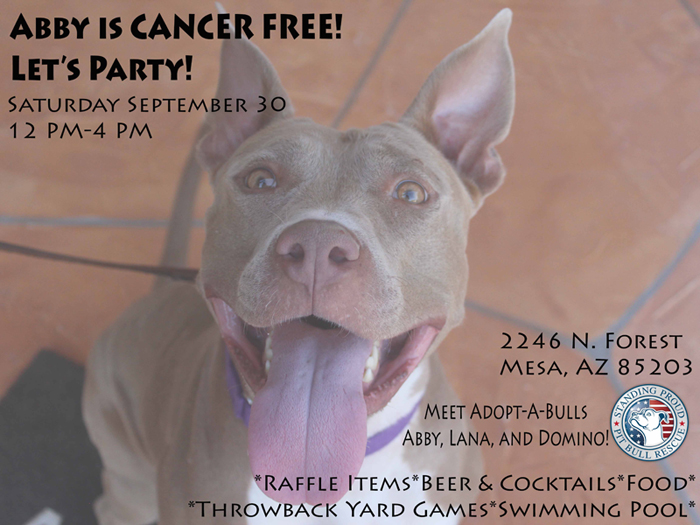 If you'd like to support Abby's care but can't make it to the party, you can make a tax deductible donation here: https://poundwishes.com/donate/2072395/abby.
Recommended Posts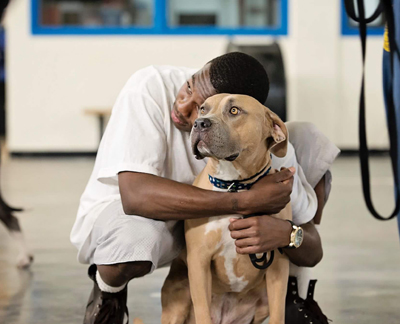 September 06, 2017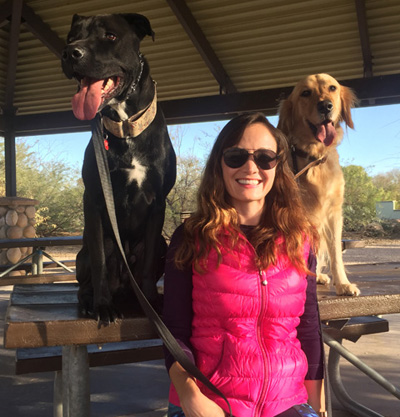 August 22, 2017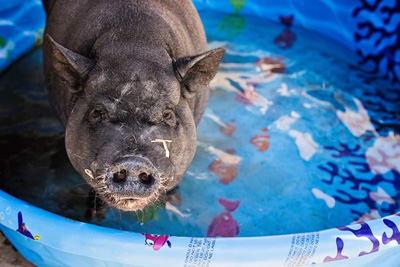 August 14, 2017